About Us
Parafield Gardens Pizza Bar is located on Martins Rd, Parafield Gardens SA.
Our menu offers a wide range of Pizza specialties such as Chicken and Pineapple, Steak n' Bacon, BBQ Pork Ribs and Many More.
You can order online from us by clicking the ORDER ONLINE button and we will deliver our delicious food directly to your front door.
We look forward to serving you.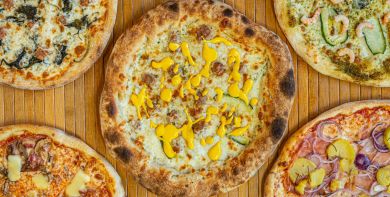 Reviews
jessie
"Nice pizza with quality ingredients, plus it was hot and ready on time. One star off for anchovies on the supreme pizza when I didn't ask for any."
We deliver to
5008 Croydon Park, 5010 Angle Park, 5010 Ferryden Park, 5011 Woodville, 5012 Mansfield Park, 5012 Woodville Gardens, 5013 Gillman, 5013 Ottoway, 5013 Pennington, 5013 Rosewater, 5014 Alberton, 5014 Queenstown, 5015 Port Adelaide, 5082 Prospect, 5083 Nailsworth, 5084 Kilburn, 5085 Northfield, 5085 Northgate, 5086 Oakden, 5094 Cavan, 5094 Dry Creek, 5095 Mawson Lakes, 5095 Pooraka, 5096 Gulfview Heights, 5096 Para Hills, 5096 Para Hills West, 5098 Ingle Farm, 5106 Parafield, 5106 Salisbury South, 5107 Green Fields, 5107 Parafield Gardens, 5108 Paralowie, 5108 Salisbury, 5108 Salisbury Downs, 5108 Salisbury North, 5109 Brahma Lodge, 5109 Salisbury East, 5109 Salisbury Heights, 5109 Salisbury Park, 5109 Salisbury Plain, 5110 Bolivar, 5110 Burton, 5110 Direk, 5110 Globe Derby Park, 5110 St Kilda, 5110 Waterloo Corner, 5111 Edinburgh, 5112 Elizabeth, 5112 Elizabeth Grove, 5112 Elizabeth South, 5112 Hillbank, 5113 Davoren Park, 5114 Blakeview, 5114 Craigmore, 5114 Smithfield, 5115 Munno Para, 5115 Munno Para West, 5116 Evanston South, 5120 Buckland Park, 5120 Virginia, 5125 Golden Grove, 5127 Wynn Vale